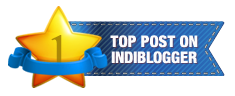 Recently read a quote that said - if you do not want to get vanished from the memory of people, the instant you die then you must do either of the two things - write something so significant and powerful that stays in demand for years, or, do something so significant that it keeps getting mentioned in writings by others, for years.
For me, popularity does not matter. An actor might be an idol for one, but another person in the same age group might never have heard about the same actor. More than popularity what matters is the importance of that person in the life of masses. Something significant done by that person to bring a transformation in the lives of masses in a positive manner thereby bringing a huge change in society in a good way.
When someone says a writer as popular, it is important to know in what respect. Has that author's writing brought a great piece of change in the society in a positive manner? Even if it has, how long the impact is going to survive? Is it a recurring changing trigger or one time? Is it exponential? Is it working like a chain reaction? One candle lighted is capable of lighting another or is it a light bulb with no capability to bring light in another bulb.
It all depends on how many minds it has shaken or how many hearts it has touched. What is the real parameter of popularity? Who knows how much money has been flown to gain it? Or some other kind of stunts, tie ups behind closed doors. And again what is the measure of popularity? A small ant is able to madden an elephant and a huge dump of cotton is not able to stand in flowing waters.
A lesser known writer might have touched someone's heart in a bigger manner. What is more important in life - infatuation or long lasting love. When once Mahatma Gandhi was speaking during the foundation stone laying of BHU, where a number of prominent English officers were present, each one of them moved out during his speech as Gandhi spoke against British rule in India and their extremities against Indians. But an early teenager boy absorbed each of the word spoken by Gandhi. This boy had so long lasting impact in his mind of the words of Gandhi that changed his life totally and he got devoted to the country. This boy one day became the Prime Minister of India - known as Lal Bahadur Shastri.
So who knows an unknown author might have a long lasting impact in someone's life in such a way that it brings out a major change in the society in a big manner.
Logically, in my opinion this topic has no relevance in most of our individual actions, life and ideologies. There is only one answer to get a false recognition or popularity - money, contacts and some stunts. This usually is not the bouquet of qualities that a talented author would like to acquire.
Will a real talented author strive for popularity whose purpose is to bring in the change in society in a positive manner. Did ever Swami Vivekananda strive for popularity? Did he ever write his books for the purpose of meager popularity or he had some other fire inside that came out in the shape of words of his books?