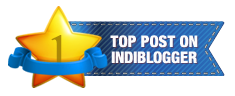 Reading Ashwin Sanghi's is a treat to enjoy as usual. Private India is a jointly written mystery by Ashwin Sanghi and James Patterson, the two masters in mystery fiction. This is a 116 chapters and a little below 450 pages book. Chapters are short and crisp. Usually for a book with so large number of pages, flow of fiction story and keeping readers hooked towards the plot of mystery is a challenge that has been very well taken care of by Ashwin and James. I enjoyed it as good as the earlier release by Ashwin Sanghi The Krishna Key.
The story of Private India by Ashwin Sanghi and James Patterson has so many characters revolving around the lead character Santosh Wagh, who heads the leading private detective agency of the country. This is a global detective agency "Private" headed by Jack Morgan and its Indian part is handled by the team headed by Santosh Wagh. Hari is the guy who handles tech expertise to dig down any kind of mobile phone transactions history or the current location of a mobile and so on. Nisha is an ex-CBI who is the right hand of Wagh. And Mubeen is the medical expert in the team Private India.


The story has almost everything to keep its reader's engaged with the fluent drive along with a number of interesting sequences. There is a series of bomb blasts, involvement of ISI and Indian Mujahedeen. There is involvement of celebrities, politicians, influential social figures, lawmakers, Godman, gangs, goons and mafias; and the police high officials. Story begins with a murder of a Thai doctor who is on her personal visit to India, found dead in mystical circumstances in her hotel room with strange articles around her dead body.
Then there is a sequence of murders that take place, in a short span of time and every time, the victim being a woman and the pattern of some different articles found around the body created a big challenge for police. The case is soon handed over to Private India and Santosh Wagh with his sharp and intelligent mind is able to connect some lose string to arrive at some conclusions. Wagh is also able to make some connection with the sequence and series of murders that is taking place and linking in the relationship of the victims. A big shock gets revealed to him while trying to manipulating and knowing who could be the next victims when one of his team members becomes the target of murderer.
Overall Private India by Ashwin Sanghi & James Patterson is an interesting book to read. There is a bouquet of mysteries, well managed to surprise readers at various touch points of the fiction story. The tagline It's the season for murder in Mumbai says it all what a reader is going to encounter in the story but in actual there is lot more to reveal, face and enjoy while reading the book. The surprise pack is the number of mystery deals in the story that are well packed and interestingly presented to the readers by the authors.
This review is a part of the biggest
Book Review Program
for
Indian Bloggers.
Participate now to get free books!